Overview

Teaching: 15 min Exercises: 30 min

Questions

What are the various ways that we can represent geospatial information?

How does a database store spatial information?

Objectives

Learn the difference between geographic and projected coordinate systems

Explore why understanding the coordinate reference frame matters when carrying out basic geospatial analysis

Become familiar with some of the geospatial toolkits within PostGIS
Calculating distances
our last research question was:

What is the most common crime within 5 km of my house?

To answer this we'll need to understand something about mapping, and how databases encode spatial information.
Note that the database currently has latitude and longitude information, for example:
SELECT latitude, longitude
FROM seattlecrimeincidents 
LIMIT 5;

| Latitude | Longitude |
| --- | --- |
| 47.6158384 | -122.3181689 |
| 47.60087709 | -122.3312162 |
| 47.59582098 | -122.3175691 |
| 47.6140991 | -122.3174884 |
| 47.63148825 | -122.3125079 |
latitude and longitude are components of the Geographic reference frame and are the most common ways to encode geospatial information:
What is the straight line distance between the first two points in the table above?
DISCUSSION: Calculating distances in geographic coordinates

is it possible for us to calculate straight line distances directly from latitude and longitude data?
Why or why not?
Are distances between lines of latitude always the same? Between lines of longitude?
---
Map Projections
often we need to convert a 3D earth to a 2D plane
this is necessary for accurate calculation of distances, bearing and area calculations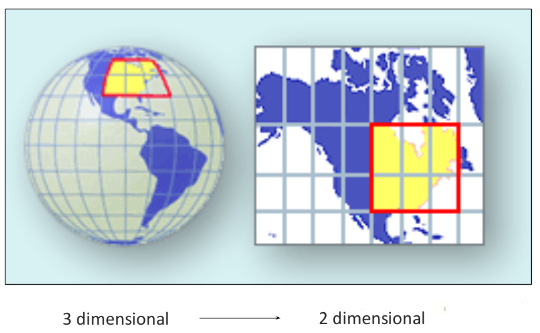 in a general sense, projection is similar to shining a light through a transparent sphere and tracing the lines of lat/long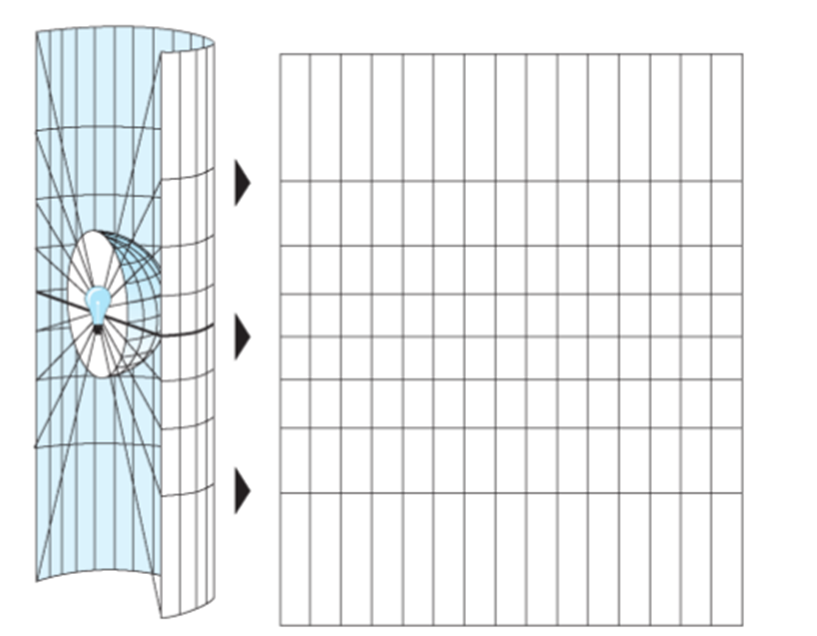 there are numerous different map projections, each optimized for different types of applications and calculations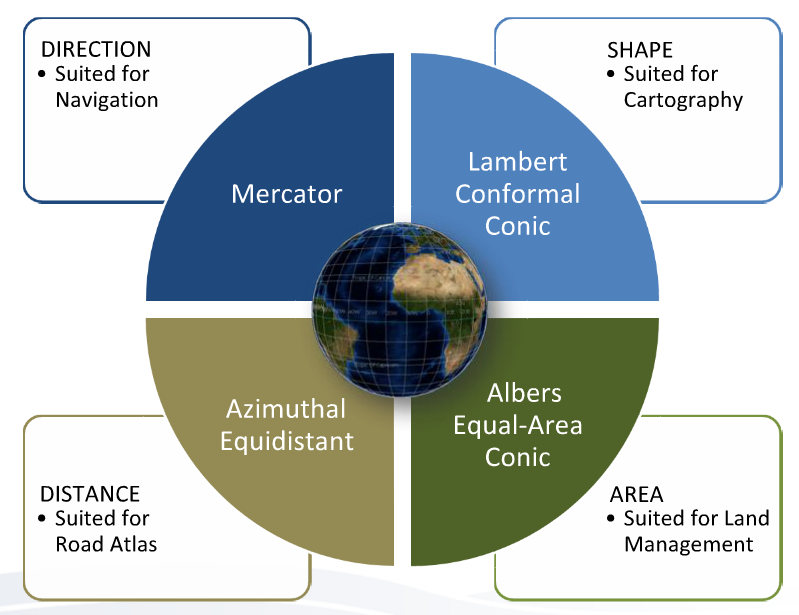 ---
Encoding of geospatial information
How does the database currently encode the latitude and longitude information?
We can determine this by querying the database for information on the type of column variables:
SELECT column_name, data_type 
FROM information_schema.columns 
WHERE table_name = 'seattlecrimeincidents' AND (column_name = 'Latitude' OR column_name = 'Longitude');

| column_name | data_type |
| --- | --- |
| Longitude | double precision |
| Latitude | double precision |
we see from this query that the spatial data format is double precision
PostGIS: a geospatial database extension

many databases, have extensions that allow for encoding of geospatial information
in the case of PostgreSQL this extension is called PostGIS
our sample database already has the PostGIS extension installed and enabled
---
Database Geometries
encoding of geospatial information occurs within a new geometry column:
ALTER TABLE seattlecrimeincidents ADD COLUMN geom geometry(Point, 4326);

this adds an empty geometry column:
| Point | Latitude | Longitude | geom |
| --- | --- | --- | --- |
| 1 | 47.6158384 | -112.3181689 |   |
| 2 | 47.60087709 | -112.3312162 |   |
Spatial Reference System Identifier (SRID)

4326 is the SRID for the geographic (latitude/longitude) coordinate system
SRIDs are a convenient way to keep track of the hundreds of different reference systems
another label for these is EPSG and you can access the list of codes here
UPDATE seattlecrimeincidents SET geom = ST_setSRID(ST_MakePoint(longitude, latitude), 4326);

| Point | Latitude | Longitude | geom |
| --- | --- | --- | --- |
| 1 | 47.6158384 | -112.3181689 | 0101000020E6100000AD0617E15C945EC07CCFEDCAD3CE4740 |
| 2 | 47.60087709 | -112.3312162 | 0101000020E6100000F2B96EA532955EC09A3B5D8AE9CC4740 |
the actual content of the geom column is a binary string read by PostGIS
Now that the database has geometric encoding, we can use a wide range of geospatial functions
---
Geospatial functions
often we receive geospatial information in various different projections and/or coordinate systems
PostGIS provides mechanisms for us to transform between different systems
here we will transform our geometries into a projected coordinate system so that we can calculate distances
We add a new column that has a projected geometry

in this case we will use 'Universal Transverse Mercator Zone 10 North', which has a SRID of 3717:

 ALTER TABLE seattlecrimeincidents
 ADD COLUMN geom_utm geometry(Point, 3717);


Now we carry out the transformation

 UPDATE seattlecrimeincidents
 SET geom_utm = ST_Transform(geom,3717);


note that all PostGIS functions begin with ST which means "Spatial Tool"

Now we can recalculate our distance using a built-in PostGIS distance function:

 SELECT ST_Distance(a.geom_utm,b.geom_utm)
 FROM seattlecrimeincidents AS a, seattlecrimeincidents AS b
 WHERE a.gid=1 AND b.gid=2;

Result
st_distance
1930.45436426609
Compare results

How does this result compare to the distance we calculated from the latitude/longitude data alone? What explains the difference?
What is the most common crime within 1 km of my house?

Find the coordinates of your house (or some other feature in the Seattle region). HINT: you can use google maps to find the latitude and longitude of any map location
Build the SQL query. You will need to nest 4 different functions to do this:

ST_MakePoint: to make a vector point geometry from your lat/long coordinate pair
ST_SetSRID: to tell the database which SRID your lat/long pair conforms to
ST_Transform: to transform your point geomtery to a projected coordinate system (use UTM Zone 10, '3717')
ST_Distance: to calculate the distance between all the geometries in the database and your single point
Key Points

All geospatial analysis requires a knowledge of reference frames and coordinate systems

Be sure to use the correct coordinate system to match your analysis, otherwise you can get unexpected results

many databases have extensions that encode geospatial information (e.g. PostGIS)

PostGIS functions provide a wide range of tools to incorporate spatial analysis into your workflow
---